Blog
---
x
God sees your efforts to retreat from sinful behaviour
And God saw their works, that they turned from their evil way; and God relented of the disaster, that he had said that he would bring upon them; and he did it not.
(Jonah 3:10)
---
x
The Holy Spirit sets us free
Now the Lord is that Spirit: and where the Spirit of the Lord is, there is liberty.
(2 Corinthians 3:17)
Therefore we trust in God and pray his word as it is:
Therefore seeing we have this ministry, as we have received mercy, we faint not; But have renounced the hidden things of dishonesty, not walking in craftiness, nor handling the word of God deceitfully; but by manifestation of the truth commending ourselves to every man's conscience in the sight of God.
(2 Corinthians 4:1-2)
---
x
Jesus calls us to be free from the devils whispering
For, brethren, you have been called unto liberty; only use not liberty for an occasion to the flesh, but by love serve one another.
(Galatians 5:13)
The enemy feeds us with thoughts and emotions, that make us be connected to this sinful life we live. We should not be ashamed about that because we can`t control completely that these thoughts and emotions come into our brain and heart. But we have a weapon:
God gave us the freedom of choice to make the difference. To reject the evil business in our head and our heart. And this again and again.
---
x
Faith is the belief in facts
Now faith is the substance of things hoped for, the evidence of things not seen.
(Hebrews 11:1)
Everything that we can see, that is reality for our senses, has its origin in creative power of god, that is invisable.
Through faith we understand that the worlds were framed by the word of God, so that things which are seen were not made of things which do appear.
(Hebrews 11:3)
---
x
Dislike your own life (soul) in this world
Jesus says:
He that loves his life shall lose it; and he that hates his life in this world shall keep it unto life eternal. If any man serves me, let him follow me; and where I am, there shall also my servant be: if any man serves me, him will my Father honor.
(John 12:25-26)
---
x
The whitness of this world is stupidity
For it is written, I will destroy the wisdom of the wise, and will bring to nothing the understanding of the prudent. Where is the wise? where is the scribe? where is the disputer of this world? has not God made foolish the wisdom of this world?
(1 Corinthians 1:19-20)
Don`t follow the experts, the politicians, the scientists of this world. In the best case they are stupid and foolish, in the worst case they are led by the devil.
Trust in god. Stay unvaccinated if your heart says no.
---
x
Do more than you do in your feel-good bubble
For if you love them who love you, what thanks have you? for sinners also love those that love them. And if you do good to them who do good to you, what thanks have you? for sinners also do even the same. And if you lend to them of whom you hope to receive, what thanks have you? for sinners also lend to sinners, to receive as much again.
(Luke 6:32-34)
---
x
The weapons and amors of GOD
Finally, my brethren, be strong in the Lord, and in the power of his might. Put on the whole armor of God, that you may be able to stand against the wiles of the devil. For we wrestle not against flesh and blood, but against principalities, against powers, against the rulers of the darkness of this world, against spiritual wickedness in heavenly places. Therefore take unto you the whole armor of God, that you may be able to withstand in the evil day, and having done all, to stand. Stand therefore, having your loins girded about with truth, and having on the breastplate of righteousness; And your feet shod with the preparation of the gospel of peace; Above all, taking the shield of faith, with which you shall be able to quench all the fiery darts of the wicked one. And take the helmet of salvation, and the sword of the Spirit, which is the word of God: Praying always with all prayer and supplication in the Spirit, and watching thus with all perseverance and supplication for all saints;
(Ephesians 6:10-18)
https://blogs.bible.org/the-spiritual-battle/
---
x
Bring your problems to GOD
Casting all your care upon him; for he cares for you. Be sober, be vigilant; because your adversary the devil, as a roaring lion, walks about, seeking whom he may devour:
(1 Peter 5:7-8)
---
x
How the hell may look like
For if God spared not the angels that sinned, but cast them down to hell, and delivered them into chains of darkness, to be reserved unto judgment;
(2 Peter 2:4)
Schlachter 2000: "Denn wenn Gott die Engel nicht verschonte, die gesündigt hatten, sondern sie in Fesseln der Finsternis in den Abgrund warf, um sie zum Gericht aufzubewahren (...) " (2. Petrus 2:4)
It is similar to that, what I had experienced with the demon: To be pulled over the edge into the never ending depth of an endless darkness.
---
x
I live as stranger in this world
These all died in faith, not having received the promises, but having seen them afar off, and were persuaded of them, and embraced them, and confessed that they were strangers and exiles on the earth.
(Hebrews 11:13)
I feel like this. But how to make my children a home in this world of homelessness?
---
x
People are following the rich, successful and beautiful of this world
Asaph describes the rich ones and the followship by the people:
They are not in trouble as other men; neither are they plagued like other men. Therefore pride surrounds them as a chain; violence covers them as a garment. Their eyes stand out with abundance: they have more than heart could wish. They are corrupt, and speak wickedly concerning oppression: they speak loftily. They set their mouth against the heavens, and their tongue walks through the earth. Therefore his people return here: and waters of a full cup are wrung out to them.
(Psalms 73:5-10)
---
x
Fear is not from God, so from whom?
For God has not given us the spirit of fear; but of power, and of love, and of a sound mind.
(2 Timothy 1:7)
So don`t make decisions if your reasons are born from fear. Fear is the toolkit of Satan.
Have not I commanded you? Be strong and of a good courage; be not afraid, neither be you dismayed: for the LORD your God is with you wherever you go.
(Joshua 1:9)
And God saw the light, that it was good: and God divided the light from the darkness.
(Genesis Johannes:4)
---
x
Do I have the Holy Ghost?
Seven indications show me that I have the Holy Ghost:
1) I believe in the gospel of salvation
2) The knowledge of Jesus grows in me
3) I understand that God loves me in Jesus Christ
4) I assure that I am a Child of God
5) My thinking has changed
6) I feel the sadness of the Holy Ghost If I act in a sinful way
7) I understand and believe God`s word more and more
---
x
The place the LORD wants you to stay
Sometimes we wish to leave a place we find terrible to live. We want to walk away and never come back. Maybe we want to emigrate to another country. But do we ask in such situations what God`s will is? Their are many situations in the bible where God tells a person so stay or to go back.
Sarai treated her maid Hagar and Hagar ran away. But the LORD told Hagar to go back:
But Abram said unto Sarai, Behold, your maid is in your hand; do to her as it pleases you. And when Sarai dealt harshly with her, she fled from her face. And the angel of the LORD found her by a spring of water in the wilderness, by the spring on the way to Shur. And he said, Hagar, Sarai's maid, where didyou come from? and where will you go? And she said, I flee from the face of my mistress Sarai. And the angel of the LORD said unto her, Return to your mistress, and submit yourself under her hands.
(Genesis 16:6-9)
Elia was the only survivor of a battle but the LORD told him to go back to the place.
And it was so, when Elijah heard it, that he wrapped his face in his mantle, and went out, and stood in the entrance of the cave. And, behold, there came a voice unto him, and said, What do you here, Elijah? And he said, I have been very jealous for the LORD God of hosts: because the children of Israel have forsaken your covenant, thrown down your altars, and slain your prophets with the sword; and I, even I only, am left; and they seek my life, to take it away. And the LORD said unto him, Go, return on your way to the wilderness of Damascus: and when you come, anoint Hazael to be king over Syria:
(1 Kings 19:13-15)
---
x
Old Testament and New Testament
The events and persons of the Old Testament refer like shadows (images) to their origin (Jesus).
Let no man therefore judge you in food, or in drink, or in respect of a holy day, or of the new moon, or of the sabbath days: Which are a shadow of things to come; but the body is of Christ.
(Colossians 2:16-17)
Example: The Slavin Hagar and the childless but free wife Sarai of Abraham stand for the earthly and the heavenly Jerusalem. (1. Mose 16 "Hagar and Ismael")
Tell me, you that desire to be under the law, do you not hear the law? For it is written, that Abraham had two sons, the one by a bondmaid, the other by a free woman. But he who was of the bondwoman was born after the flesh; but he of the free woman was by promise. Which things are an allegory: for these are the two covenants; the one from mount Sinai, which brings forth to bondage, which is Hagar. For this Hagar is mount Sinai in Arabia, and answers to Jerusalem which now is, and is in bondage with her children. But Jerusalem which is above is free, which is the mother of us all.
(Galatians 4:21-26)
Sing, O barren, you that did not bear; break forth into singing, and cry aloud, you that did not travail with child: for more are the children of the desolate than the children of the married wife, says the LORD.
(Isaiah 54:1)
---
x
Peoples doubts about Gods faithfulness are biblical
And Gideon said unto him, Oh my Lord, if the LORD be with us, why then is all this befallen us? and where are all his miracles which our fathers told us of, saying, Did not the LORD bring us up from Egypt? but now the LORD has forsaken us, and delivered us into the hands of the Midianites.
(Judges 6:13)
---
x
What does porneia mean?
Every sexual sin is repugnant to God. The Greek word porneia is a sin that includes a wide range of illicit sexual intercourse or sexual activity. The word can refer to prostitution, sexual intercourse outside of marriage, pedophilia, promiscuity, homosexuality, lesbianism, incest, premarital sex and bestiality.
Neither repented they of their murders, nor of their sorceries, nor of their fornication, nor of their thefts.
(Revelation 9:21)
And there followed another angel, saying, Babylon is fallen, is fallen, that great city, because she made all nations drink of the wine of the wrath of her fornication.
(Revelation 14:8)
With whom the kings of the earth have committed fornication, and the inhabitants of the earth have been made drunk with the wine of her fornication. So he carried me away in the spirit into the wilderness: and I saw a woman sitting upon a scarlet colored beast, full of names of blasphemy, having seven heads and ten horns. And the woman was arrayed in purple and scarlet color, and adorned with gold and precious stones and pearls, having a golden cup in her hand full of abominations and filthiness of her fornication:
(Revelation 17:2-4)
For all nations have drunk of the wine of the wrath of her fornication, and the kings of the earth have committed fornication with her, and the merchants of the earth have grown rich through the abundance of her luxury.
(Revelation 18:3)
For true and righteous are his judgments: for he has judged the great harlot, who did corrupt the earth with her fornication, and has avenged the blood of his servants at her hand.
(Revelation 19:2)
Neither repented they of their murders, nor of their sorceries, nor of their fornication, nor of their thefts.
(Revelation 9:21)
It is reported commonly that there is fornication among you, and such fornication as is not so much as named among the Gentiles, that one should have his father's wife.
(1 Corinthians 5:1)
Nevertheless, to avoid fornication, let every man have his own wife, and let every woman have her own husband.
(1 Corinthians 7:2)
And I say unto you, Whosoever shall put away his wife, except it be for fornication, and shall marry another, commits adultery: and whoever marries her who is put away does commit adultery.
(Matthew 19:9)
---
x
God makes us come to him
No man can come to me, except the Father who has sent me draw him: and I will raise him up at the last day.
(John 6:44)
---
x
Do not fear what others might say about you
The fear of man brings a snare: but whosoever puts his trust in the LORD shall be safe.
(Proverbs 29:25)
---
x
Should we pray for the salvation of people who have died before coming to Jesus?
My mother died a few days ago and I prayed to GOD that he would bring her home. My mother was baptized as a child and has been a kind person throughout her life. But she never really found faith. Is it now presumptuous of me to ask for the salvation of her soul?
I have one answer in the story of Job: Job`s friends are disgraced by GOD for speaking against his word. But GOD allows Job to pray for his friends and to ask for grace.
And it was so, that after the LORD had spoken these words unto Job, the LORD said to Eliphaz the Temanite, My wrath is kindled against you, and against your two friends: for you have not spoken of me the thing that is right, as my servant Job has. Therefore take unto you now seven bullocks and seven rams, and go to my servant Job, and offer up for yourselves a burnt offering; and my servant Job shall pray for you: for him will I accept: lest I deal with you after your folly, in that you have not spoken of me the thing which is right, like my servant Job.
(Job 42:7-8)
---
x
All christians are conjoined with each others
And whether one member suffers, all the members suffer with it; or one member be honored, all the members rejoice with it. Now you are the body of Christ, and members in particular.
(1 Corinthians 12:26-27)
---
x
Modern churches will deny the word
For the time will come when they will not endure sound doctrine; but after their own lusts shall they draw to themselves teachers, having itching ears; And they shall turn away their ears from the truth, and shall be turned unto myths. But you watch in all things, endure afflictions, do the work of an evangelist, fully carry out your ministry.
(2 Timothy 4:3-5)
---
x
How unchangeable are rules given by God?
God gives us rules for our own benefit. But these rules do not end in themselves. Jesus explains from a human perspective why his followers breached the Sabbat in a special situation of necessity.
And he said unto them, The sabbath was made for man, and not man for the sabbath: Therefore the Son of man is Lord also of the sabbath.
(Mark 2:27-28)
---
x
The world is not your friend
And be not conformed to this world: but be transformed by the renewing of your mind, that you may prove what is that good, and acceptable, and perfect, will of God.
(Romans 12:2)
---
x
Hospitality
Let brotherly love continue. Be not forgetful to entertain strangers: for thereby some have entertained angels unawares.
(Hebrews 13:1-2)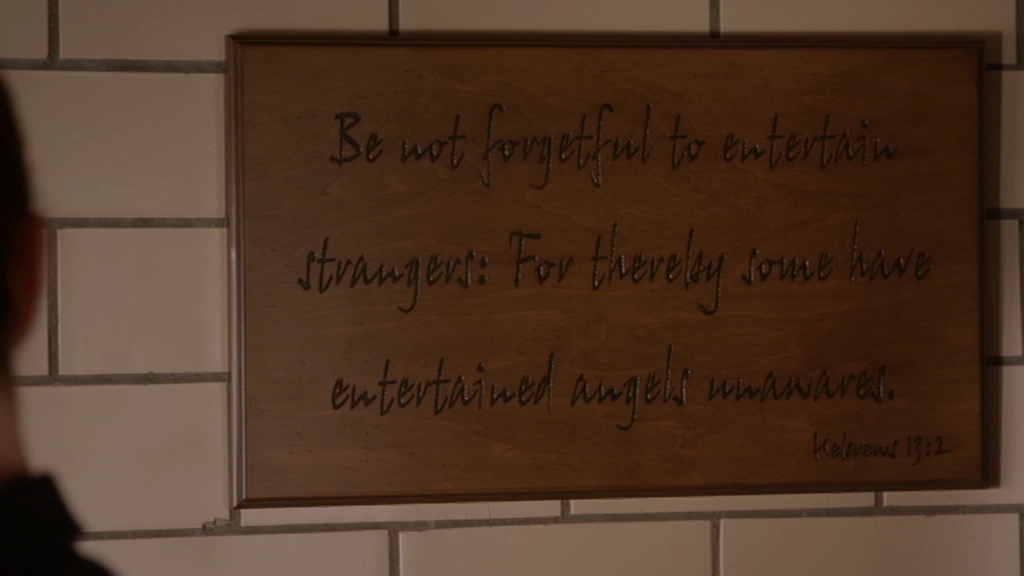 (Scene from the movie Love will find you in Sugarcreek)
---
x
Why Satan was banned from heaven
You are the anointed cherub that covers; and I have set you so: you were upon the holy mountain of God; you have walked up and down in the midst of the stones of fire. You were perfect in your ways from the day that you were created, till iniquity was found in you. By the multitude of your trade they have filled the midst of you with violence, and you have sinned: therefore I will cast you as profane out of the mountain of God: and I will destroy you, O covering cherub, from the midst of the stones of fire. Your heart was lifted up because of your beauty, you have corrupted your wisdom because of your splendor: I will cast you to the ground, I will lay you before kings, that they may behold you.
(Ezekiel 28:14-17)
How are you fallen from heaven, O Lucifer, son of the morning! how are you cut down to the ground, who did weaken the nations! For you have said in your heart, I will ascend into heaven, I will exalt my throne above the stars of God: I will sit also upon the mount of the congregation, in the farthest sides of the north: I will ascend above the heights of the clouds; I will be like the most High. Yet you shall be brought down to sheol, to the sides of the pit. They that see you shall gaze upon you, and consider you, saying, Is this the man that made the earth to tremble, that did shake kingdoms; That made the world like a wilderness, and destroyed its cities; that opened not the house of his prisoners? All the kings of the nations, even all of them, lie in glory, everyone in his own tomb. But you are cast out of your sepulcher like an abominable branch, and as the garment of those that are slain, thrust through with a sword, that go down to the stones of the pit; as a corpse trodden underfoot.
(Isaiah 14:12-19)
---
x
Why Christians are been hated
If the world hates you, you know that it hated me before it hated you. If you were of the world, the world would love its own: but because you are not of the world, but I have chosen you out of the world, therefore the world hates you.
(John 15:18-19)
Why Satan has chosen the humans to be seduced? Because the humans have been created as image of god. And that`s the reason why we are maltreated by Satan, because he don`t wont us - the children of god - to be on earth. Our existence here on earth makes him feel his endless condemnation from heaven.
---
x
What God does (not) like
Now the works of the flesh are manifest, which are these; Adultery, fornication, impurity, licentiousness, Idolatry, witchcraft, hatred, strife, jealousy, wrath, selfishness, divisions, heresies, Envyings, murders, drunkenness, revelings, and such like: of which I tell you beforehand, as I have also told you in time past, that they who do such things shall not inherit the kingdom of God.
(Galatians 5:19-21)
But the fruit of the Spirit is love, joy, peace, longsuffering, gentleness, goodness, faith, Meekness, self-control: against such there is no law.
(Galatians 5:22-23)
This I say then, Walk in the Spirit, and you shall not fulfill the lust of the flesh. For the flesh lusts against the Spirit, and the Spirit against the flesh: and these are contrary the one to the other: so that you cannot do the things that you would. But if you be led of the Spirit, you are not under the law.
(Galatians 5:16-18)
---
x
The Holy Spirit helps us to understand God
But as it is written, Eye has not seen, nor ear heard, neither have entered into the heart of man, the things which God has prepared for them that love him. But God has revealed them unto us by his Spirit: for the Spirit searches all things, yea, the deep things of God. For what man knows the things of a man, except the spirit of man which is in him? even so the things of God knows no man, but the Spirit of God.
(1 Corinthians 2:9-11)
---
x
The early Christians were considered conspiracy theorists
For the preaching of the cross is to them that perish foolishness; but unto us who are saved it is the power of God. For it is written, I will destroy the wisdom of the wise, and will bring to nothing the understanding of the prudent. Where is the wise? where is the scribe? where is the disputer of this world? has not God made foolish the wisdom of this world? For since in the wisdom of God the world by wisdom knew not God, it pleased God by the foolishness of preaching to save them that believe. For the Jews require a sign, and the Greeks seek after wisdom: But we preach Christ crucified, unto the Jews a stumbling block, and unto the Greeks foolishness;
(1 Corinthians 1:18-23)
---
x
The people at the end of their days
This know also, that in the last days perilous times shall come. For men shall be lovers of their own selves, covetous, boasters, proud, blasphemers, disobedient to parents, unthankful, unholy, Without natural affection, truce breakers, false accusers, incontinent, fierce, despisers of those that are good, Traitors, reckless, conceited, lovers of pleasures more than lovers of God; Having a form of godliness, but denying the power thereof: from such turn away.
(2 Timothy 3:1-5)
---
x
When God writes your love story
(Scene from the movie Princess Cut)
What therefore God has joined together, let not man put asunder.
(Mark 10:9)
---
x
Like a Country Song
(Scene from the movie Like a Country Song)
Come unto me, all you that labor and are heavy laden, and I will give you rest.
(Matthew 11:28)
---
x
It`s (not that) complicated
(Scene from the movie Princess Cut)
And the LORD God said, It is not good that the man should be alone; I will make him a helper suitable for him.
(Genesis 2:18)
---
x
Is the woman subordinate to the man?
Wives, submit yourselves unto your own husbands, as unto the Lord.
(Ephesians 5:22)
And the LORD God said, It is not good that the man should be alone; I will make him a helper suitable for him.
(Genesis 2:18)
My wife says: Paul didn`t like woman at all, Jesus himself had never spoken of women like that.
Helper? At first glance, that sounds like a second-class cemetery gardener. But associated with the words "helping" or "coach", the role looks different. It is Gods grace that as man I have the opportunity to rely on the wisdom of my wife.
---